Campaign Progress
last updated: July 26th, 2015

The Tri-Kap Capital Campaign Committee soft-launched the Campaign in August of 2013. The Committee started with our youngest alumni (Classes of 2000 - 2012) in an effort to demonstrate to the alumni base the enduring importance of Kappa Kappa Kappa to Dartmouth College undergraduates. Since the launch, 163 young alumni have joined the effort, posting a 62% participation rate within these classes and raising $472,000. The participation rate is as follows: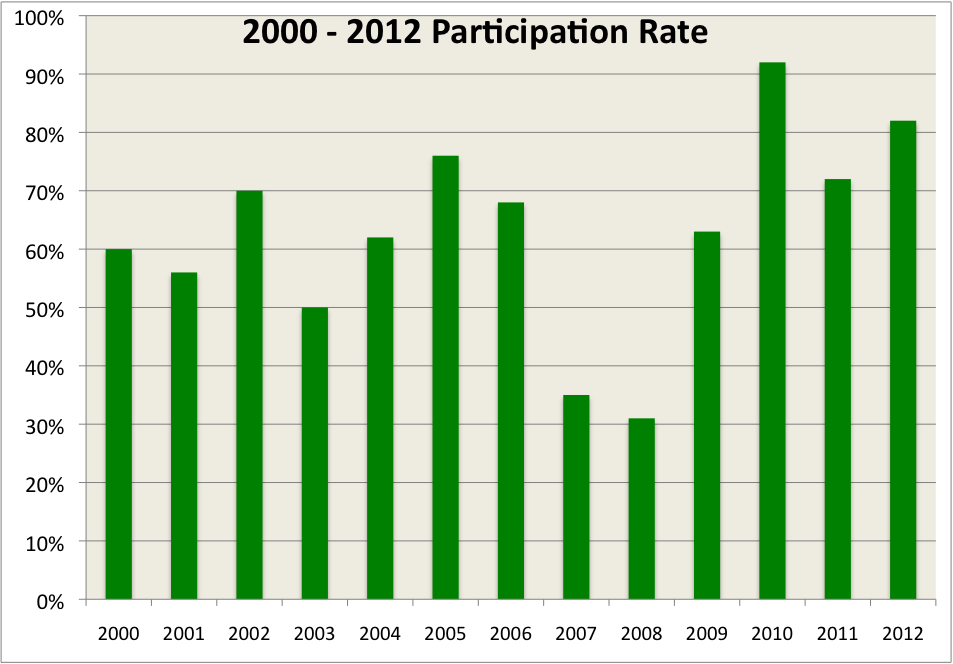 In total, The Tri-Kap Capital Campaign has raised $857,000 from 325 donors across 59 classes and 8 decades. The total Campaign funds pledged by class and decade are as follows: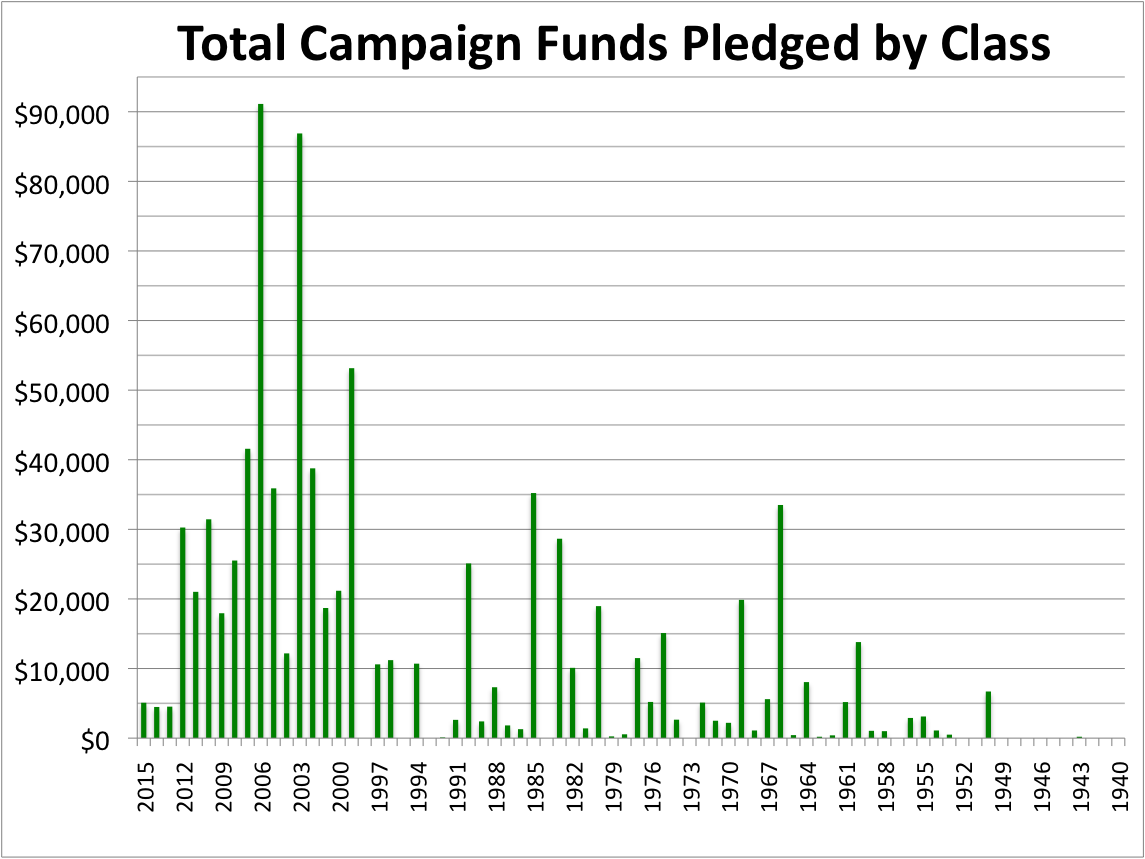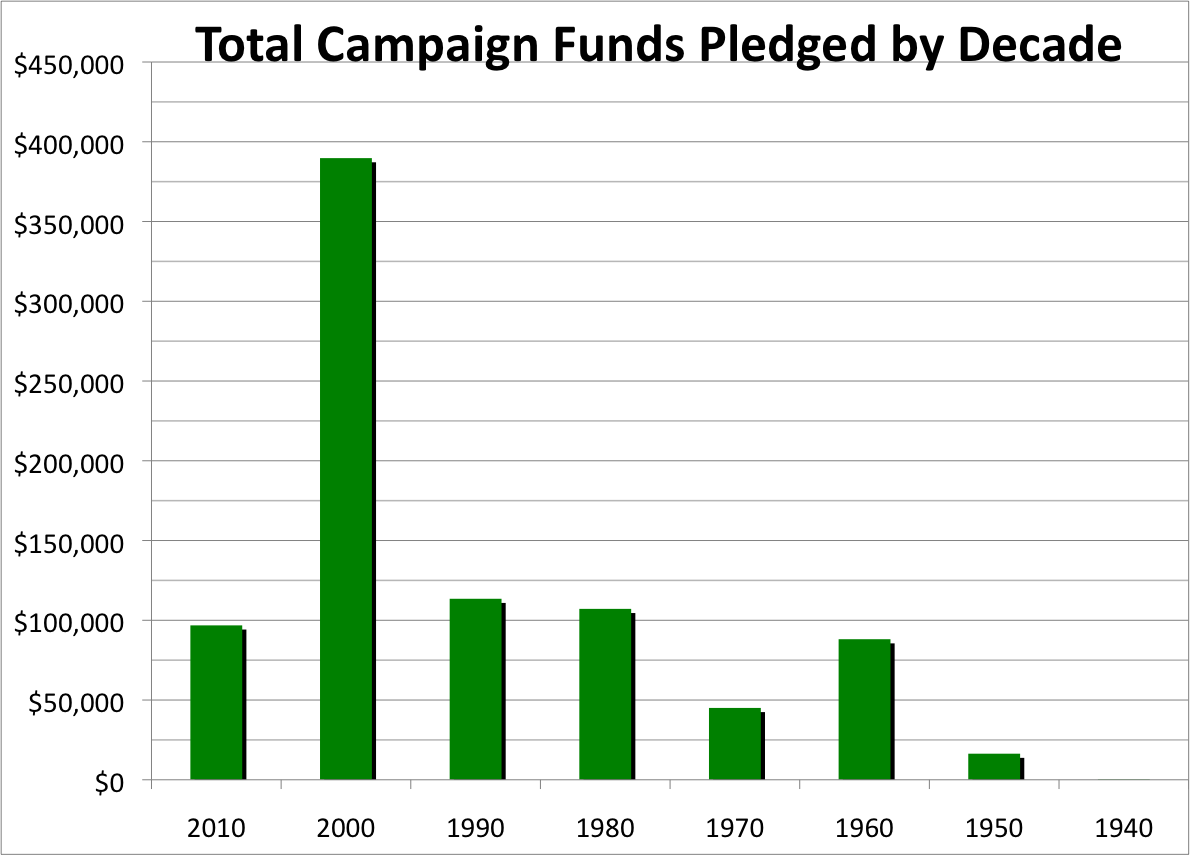 The Tri-Kap Capital Campaign is also supporting group donations in memoriam of a fallen brother, as well as class wide gifts. One such effort is the
Sam Crocker '70 Memorial Fund
. Please click to see the progress on this Memorial Fund.
As you can see, we've got a lot more work to do. Please join your fellow Tri-Kap's in securing the legacy of Kappa Kappa Kappa Society today.
Tri-Kap Capital Campaign Honor Roll
The Tri-Kap Capital Campaign Committee would like to thank all donors for their generous contributions to Kappa Kappa Kappa Society.
Lifetime Benefactor Club

SPACE

Benefactor Club

SPACE

Philbrick, Hobart, Nash Club

SPACE

Judge Amos Blandon Club

Paul Kim '99
Justin Walsh '03

Phil McGuinnis Club

Kenneth Taylor '66
Michael Feeley '83
Gregory Smith '85
Chris Bonomo '90
Angad Banga '06
Tyler Hawkins '07

Hamilton Chase Club

Hampton Rich '69
Thomas Ribovich '75
David Fountain '77
Steve Levitan '82
Eugene Kim '97
Tony Lam '00
Andrew Fishman '02
Sean Heikkila '02
Sunil Bhagavath '03
James Lau '03
Paul Rosania '05
David Cao '06
Nannan Hu '06
David Lindenbaum '08
Michael Brasher '10

Builder Club

William Danforth '60
Donald Highlands '61
Geofrey Greenleaf '66
Rock Ley '66
Michael Seely '67
Richard Walden '69
Coleman Tuggle '75
Carl Cucco '76
Andy Sullivan '80
Gerald Hughes '88
Peter Stoll '94
Tor Trivers '94
Mark Cicirelli '96
Jeremy Works '00
Andrew Chu '01
Peter Hainley '01
Richard Park '01
Jay Jung '03
Josh Stabiner '03
Charles Chen '04
Keil Hur '05
Benjamin Herold '06
Wonjoong Kim '06
Adam Patinkin '07
Adam Belanich '08
Chris Takeuchi '09
Dexter Mackie '10
James Schlosstein '11
Benjamin Burke '12
All Club level donors are eligible for a gift from the fraternity based on the
gift table.
Note: some donation levels have been omitted at the request of the donor
1940s
John Hyde '43
1950s
Eugene Carver II '50
David Hitchcock '50
Ed Noyes '50
Howard Weston '50
John Morris '53
Robert Kenney '54
John D. Pope '54
D. Kilton Andrew '55
John Lewis '55
Walter Neubacher '56
Bob Rosebaum '56
Stewart Sanders '56
Charles Soule '56
David Glendinning '58
David Melick '58
John Clark '59
Paul Stein '59
1960s
Donald Belcher '60
Peter Crumbine '60
William Danforth '60 - Builder Club
Paul Goldberg '60
Richard Pomboy '60
Raymond Pong '60
Graham Rogeness '60
Donald Highlands '61 - Builder Club
Stephen D. Merrill '61
David Milne '61
Arthur P. Hays '62
Robert Sprafkin '62
Douglas A. Kerr '63
Stephen Kurland '63
Robert Brayton '64
Thomas C. Clark '64
Bruce Cross '64
James Pendergrast '64
Bradley Dewey '65
Christopher Marston '65
Robert Ziemian '65
Geofrey Greenleaf '66 - Builder Club
Rock Ley '66 - Builder Club
Bob Spence '66
Kenneth Taylor '66 - Phil McGuinnis Club
Fred Moore '67
Tom Nelson '67
Michael Seely '67 - Builder Club
John Baker '68
Tracy Johnson '68
Bernard Ducamp '69
Garrick Giebel '69
Hampton Rich '69 - Hamilton Chase Club
Richard Walden '69 - Builder Club
Ralph Woodman Jr. '69
1970s
Day Krolik III '70
Andrew Lewis '70
Michael Sateia '70
Robert Joy '71
Richard Curran '72
Mark Stitham '72
Lloyd Ucko '72
David Caldwell '74
David von Loesecke '74
Robert Macallister '74
Paul Mesches '74
Wayne Whitmore '74
Thomas Ribovich '75 - Hamilton Chase Club
Peter Smith '75
Coleman Tuggle '75 - Builder Club
Carl Cucco '76 - Builder Club
Bob Lee '76
Christopher Sega '76
David Fountain '77 - Hamilton Chase Club
Garth Greimann '77
James Kreindler '77
Steve Strauss '78
Peter Robinson '79
1980s
Dan Fitzpatrick '80
Joseph Mannes '80
Chuck Muenzen '80
Eric Pfeiffer '80
Robert Rough '80
John Ribaudo '80
Mark Speers '80
Andy Sullivan '80 - Builder Club
Sean Wilson '80
Todd Young '80
Peter Corren '81
Laurent Glance '81
Peter Heymann '81
Eric Brown '82
Steve Levitan '82 - Hamilton Chase Club
James McKim '83
Michael Feeley '83 - Phil McGuinnis Club
Gregory Smith '85 - Phil McGuinnis Club
Bennett Zimmerman '85
Ken Bausch '86
Andrew Gutow '86
Frank Lauterbur '86
James Killmond '87
Sam Braverman '88
Gerald Hughes '88 - Builder Club
Stephen Kubiatowski '88
Werner Meyer '88
Scott Sabol '88
Christopher Baldwin '89
1990s
Chris Bonomo '90 - Phil McGuinnis Club
Eric Lineback '90
Keith Dangleis '91
Walter Saurack '91
Mike Tsao '91
Hugo Restall '92
Steven Choi '94
Sangwoo Lee '94
Peter Stoll '94 - Builder Club
Tor Trivers '94 - Builder Club
Mark Cicirelli '96 - Builder Club
William Hall '96
Johnny Kao '96
Jo Won Seuk '96
Andrew Soh '96
Frank Aum '97
Sang Lee '97
Eugene Kim '97 - Hamilton Chase Club
Mark Fulenwider '99
Hai-Gi Li '99
Eugene Kim '99
Paul Kim '99 - Judge Amos Blandon Club
2000s
Kai Chen '00
Tony Lam '00 - Hamilton Chase Club
Benjamin Lee '00
Chi Holden Lee '00
David Luckenbach '00
Andrew Park '00
Saj Samuel '00
Jeremy Works '00
Stewart Young '00
Sungjin Cho '01
Andrew Chu '01 - Builder Club
Peter Hainley '01 - Builder Club
Jeff Kinkaid '01
Jay Kuo '01
Gerald Lam '01
Rich Park '01 - Builder Club
Rick T. Su '01
Alex Waters '01
James Yoo '01
Francisco Ayala '02
Benjamin Barnes '02
Hyung Cho '02
Andrew Fishman '02 - Hamilton Chase Club
Sean Heikkila '02 - Hamilton Chase Club
Tom Jeong '02
Soon Ho Lee '02
Jeffery Lin '02
Derek Nee '02
Ryota Ogura '02
Mark Perez '02
Michael Salzman '02
Will Trepp '02
Sangjoon Han '02
Sunil Bhagavath '03 - Hamilton Chase Club
Bruce Chen '03
Andrew Haringer '03
Edward Kim '03
Jay Jung '03 - Builder Club
James Lau '03 - Hamilton Chase Club
Scott Mollett '03
Evan Richardson '03
Daniel Soule '03
Joshua Stabiner '03 - Builder Club
Luke Turechek '03
Justin Walsh '03 - Judge Amos Blandon Club
Prayaag Akbar '04
Fred Carleton '04
Charles Chen '04 - Builder Club
Derrick Chu '04
George Lee '04
Edward Lee '04
Eric Liu '04
Alexander Taylor '04
Matthew Brown '05
Max Cinberg '05
Johnny Chen '05
Keil Hur '05 - Builder Club
Riad Khan '05
Sae Jin Kim '05
Jason Lee '05
Stuart Leung '05
Fang Li '05
Matthew Potts '05
Paul Rosania '05 - Hamilton Chase Club
Joshua Valdez '05
Aaron Zwintscher '05
Angad Banga '06 - Phil McGuinnis Club
David Cao '06 - Hamilton Chase Club
Eric Chen '06
Brian Crane '06
Peter Cucchiara '06
Rajiv Dhar '06
George Gorospe '06
Cameron Hahn '06
Benjamin Herold '06 - Builder Club
Nannan Hu '06 - Hamilton Chase Club
Peter Hughes '06
Wonjoong Kim '06 - Builder Club
Eisho Porter '06
Walter Shin '06
Benjamin Silverman '06
Christian Wylonis '06
Harry Youm '06
Ray Baik '07
Thierri Callier '07
Tyler Hawkins '07 - Phil McGuinnis Club
Adam Patinkin '07 - Builder Club
Vorapat Praneeprachachon '07
Timothy Yang '07
Adam Belanich '08 - Builder Club
Tomi Jun '08
Marc Lajoie '08
David Lindenbaum '08 - Hamilton Chase Club
Claudio LoCasio '08
Michael Maccini '08
Benjamin Robbins '08
Edward Son '08
Don Zhang '08
Kyle Diamond '09
Andrew Greenberg '09
Sam Kennedy '09
Shawn Hiner-Leamon '09
Andrew Jean-Louis '09
Alan Kwan '09
Shunsuke Sakurai '09
Andy Sloan '09
Chris Takeuchi '09 - Builder Club
Nathan Zhang '09
2010s
Jonathan Adelson '10
Hermanjit Bajwa '10
Alex Borland '10
Michael Brasher '10 - Builder Club
Christopher Cain '10
Jude Chiy '10
Islam Fayad '10
Zachery Gottlieb '10
Connor Heinrich '10
Mark Heller '10
Yilong Jin '10
Philip Kenol '10
Eric Larson '10
Leonard Lewis IV '10
Dexter Mackie '10 - Builder Club
Samir Mehta '10
Adam Merber '10
Joe Pena '10
Teddy Sinsheimer '10
Aditya Soni '10
Justin Tzou '10
Daniel Wiebicke '10
Valentino Wong '10
Michael Abendroth '11
Daehyun An '11
Jinwoo Baik '11
John Burden '11
Leonard Chang '11
Tan Chen '11
Jacob Kim '11
Wilbur Kung '11
Sean Lee '11
John Mackay '11
Andrew Oppo '11
Blair Randall '11
James Schlosstein '11 - Builder Club
Cameron Sharman '11
Jack Wang '11
Conrad Whitaker '11
Travis Whitfield '11
Henry Yan '11
Benjamin Burke '12 - Builder Club
Maxwell David '12
Luke Fowlie '12
Juan Freile '12
Juan Gonzalez '12
Michael Joseph '12
Saagar Kaul '12
Aki Onda '12
Deep Shah '12
Eddy Vaisberg '12
Kenneth Wang '12
Marcel Wolff '12
Max Yoeli '12
Wei Zhou '12
Michael Barile '13
Robinson Culver '13
Dan Fox '13
Tanay Ganga '13
Arun Gomatam '13
Roberto Guerrero '13
Daniel Krawec '13
Adam Pastrich '13
Jorge Pelaez '13
Will Tong '13
Chris Woods '13
Nicholas Valentini '13
Donghan Zhao '13
Max Bildner '14
Max Frenkel '14
Matthew Graves '14
Dan Harritt '14
Parth Kaul '14
Nate Reznicek '14
Anthony Zhao '14
Caleb An '15
Joon Ho Baak '15
Will Bollenbach '15
Eric Do '15
Tae Bin Kim '15
Justin Lee '15
Kevin Moon '15
George Philipose '15
Nish Ravichandran '15
Manav Raj '15
Aniceto Solares '15
Joan Swerdloff '15
Brett Szalapski '15
Anka Tezcan '15
Brian White '15